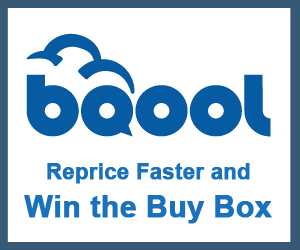 Hi everyone!  If all goes well, I'll be leaving my full-time job in 2 weeks.  In preparation for my new life which will include more Amazon FBA, I have made a few changes to my subscription services:
I'm cancelling the online sourcing lists because once my job ends, I'll have more time for retail arbitrage.  I plan on focusing on Back To School, Automotive, Toys, and then moving my way into Books and Wholesale.  I will still do some online arbitrage, but not as much.
BQool Repricing
I have mainly been a "set it and forget it" person when it comes to pricing.  As a result, I have more than a few long-standing items that are priced high as I did not adjust my prices downward as other Sellers came in and lowered prices.
In the past, I have tried other Repricers but they were either too expensive or too complicated for me to learn.
Cost
At this time, their least expensive plan is $25 per month or $22.50 if paid annually.  This plan is for hourly repricing for up to 2500 listings.   This is much less than a couple of other repricers that I tested out.
If you have more listings or want accelerated pricing, they have other plans available.  Please check out their pricing page for more information.
They do offer a 14-day free trial on all of their plans and no credit card is required.
Why It's So Simple
Once your inventory is downloaded to your BQool account, you go through and enter your Buy Cost to each of your inventory items.  Then you tell BQool what you want your min/max profits to be.  From there, BQool will calculate your min/max selling prices.
You can also do the reverse – enter your min/max selling prices and BQool will calculate your min/max profits.
It's very important to have a minimum price so that the repricer doesn't lower your prices so low that you don't make a profit.
After you set the prices, you apply the Pricing Rule.  BQool already has "Get Buy Box" and "Maximize Profit."  Of course, you can create your own Pricing Rule.  For now, I'm using theirs.
One of my goals is to sell all of my older inventory.  The plan is to have extra cash available for when my job ends so that I can buy lots of better & faster-moving inventory.  So far, BQool is helping me accomplish this as I've sold many older items over the past few weeks.
Hope each of you is having a profitable summer!
Diana Poisson
p.s. Ready to give BQool a try?  Click here for a 14-day free trial with no credit card required!